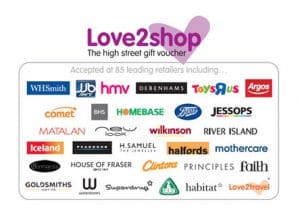 Our Rewarding Borrowers Scheme means that if you haven't missed a payment with us in the last 12 months you will receive a shopping voucher!
The shopping voucher is based on a percentage of the amount of loan interest you have paid during the year.
The following provides answers to the most frequently asked questions about the reward scheme.
Why am I getting a reward?
The reward is for managing Clockwise loan accounts responsibly.
How do I claim my reward?
Once you receive your reward, visit Love 2 Shop Rewards at  www.love2shoprewards.co.uk/login
Then, enter your unique e-voucher code.
Is the voucher redeemable through Clockwise?
No. The voucher can only be claimed through Love 2 Shop Rewards online, at the website detailed above.  Once online at that site, it can be swapped for various other e-vouchers that can be spent in many other online store websites. Alternatively, there are options to swap the voucher for a physical voucher which Love 2 Shop will then post out to you.
Why have I not been given a reward, like my friend has?
Not all members qualify under the reward scheme criteria. Members who are eligible will receive a reward based on their individual Clockwise account and the interest they have paid. This will be different from one member to another. Due to data protection, we are unable to provide any information at all on any other member's Clockwise account.
Review us on Google or Facebook
If you've had a positive experience with us, why not pop a review on Google or Facebook. It really helps spread the word about Clockwise and how we can help people in our local community. To post a review on Google simply 'Google' Clockwise Credit Union and you will see on the left hand side a panel that gives our details. Half way down you can choose to write a review by clicking this tab. To post a review on Facebook, simply click here or if you are on our Facebook page, you can choose 'reviews' from the right hand menu.
We really appreciate you taking the time to give us your feedback, thank you!
Image used is for illustrative purposes only and does not reflect any voucher you will receive.