At Clockwise, you can save while you borrow and be rewarded! We know how difficult it can be to save, especially if you have borrowed for something you need or want.
To grow your savings, we will reward you for saving regularly during the time you are repaying your loan.
Rewards
To qualify for the Save While You Borrow reward, you must have a loan balance of between £250 and £1,500. You must make a savings deposit to coincide with every loan repayment. Lump sum deposits are not permitted. The maximum value reward will be capped at £33 per 26 week period.
Please read full terms and conditions below.
Example Savings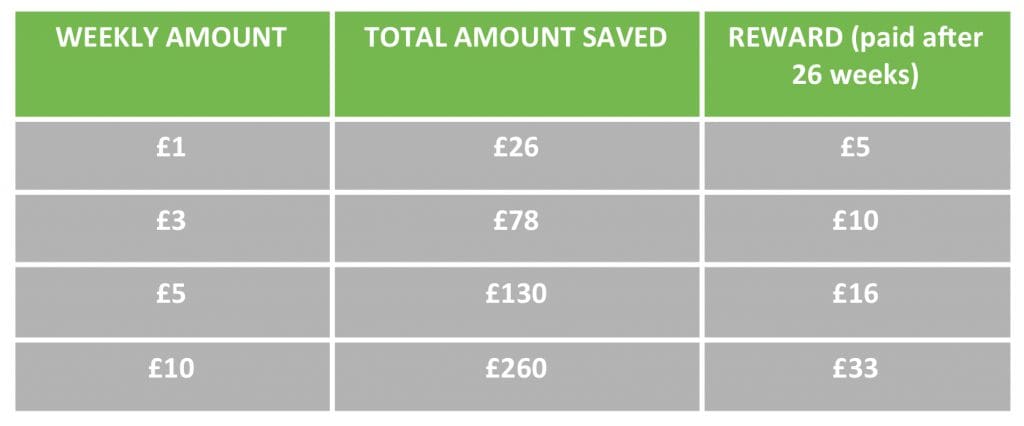 We hope that you will enjoy saving and benefit from the reward at the end of your savings period. We want you to receive the fantastic bonus we are offering. To make the most of this opportunity, try to save an affordable sum each time you make your loan repayment.
Save While You Borrow is available as an option when taking out a new loan with Clockwise. You can view our personal loan options here.
Save While You Borrow Terms & Conditions
This product is a new savings account for any member who has a loan with an opening balance of between £250 and £1,500.

You must make a savings deposit every loan repayment period, without fail, to qualify for the reward.

You must also meet all loan repayment conditions to qualify for the reward (as detailed in your loan agreement).

You are allowed 1 savings withdrawal per six month period – there is no limit to the value of that withdrawal, but only the balance at the end of the six month period will be used to calculate the reward (not the amount saved in one period).

If more than one withdrawal is made, the savings scheme will stop and any funds will revert to your regular membership savings account. You will only be allowed to rejoin the scheme if you choose to take out a new loan under a new agreement.

The reward will be given every 26 weeks from your first savings payment, subject to the above criteria being met.

The reward maximum value will be capped at £33 per 26 week period.

You must have a loan to qualify for this account (if your loan finishes during a 6 month saving period the reward will still be given as long as the other terms and conditions are met).
If you have any questions or comments, please contact our Member Services Team who will be happy to assist you.