We are a fair, responsible and people focused credit union, providing a range of financial products and services to the local communities of Leicester, Leicestershire, Rutland, Northamptonshire, Coventry and Warwickshire.
Clockwise Credit Union provides a range of financial services to people living or working in the following areas
Leicester
Leicestershire
Rutland
Northamptonshire
Coventry
Warwickshire.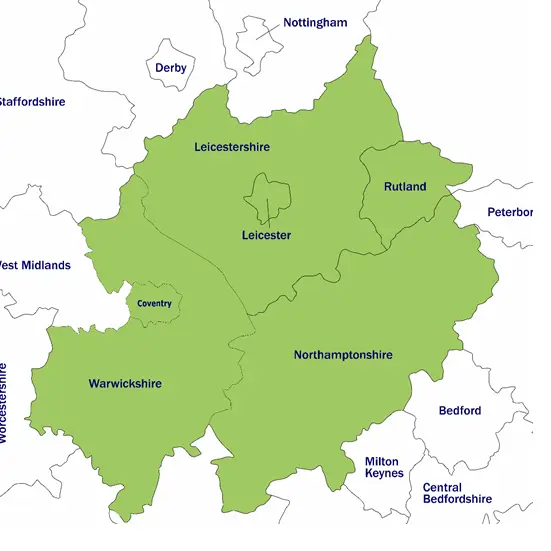 About Clockwise
Clockwise is one of the UK's most exciting, dynamic and fast growing financial co-operatives that is just for the people of Leicester, Leicestershire, Rutland and Northamptonshire. As a not-for-profit organisation we can pass on the savings to our members by providing affordable loans, safe savings and ethical financial products and services. This means that your share contributes to keeping money within the local community.
What our members think of us
Thank you so much! I really appreciate being approved. I was so worried about what I was going to do . You guys always seem to help me.
You are brilliant. You always help me in times of need
I can't believe how easy it is. I heard the interest rates were better than anywhere else. The staff are so pleasant,  polite and helpful.
I save through my salary and then have a good bit towards Christmas presents for my family. Being part time, now we've had our little girl, means our income changed a lot, so this is brilliant for us.
Clockwise does exactly what it says it does. Applying for a loan was really easy with payments that are manageable. I was happy to tell all my friends to join!
I would like to thank you and your colleagues for your support with organising increasing payments through payroll, it really made my maternity leave easier. Thank you.
Just like your high street banks and building societies, the money you deposit into your credit union account, up to £85,000, is protected under the Financial Services Compensation Scheme (FSCS). If you have a joint account you will be protected for £85,000 each.
FSCS protection is free to customers, so if anything happens to your bank, building society or credit union, and you cannot access your money, the FSCS will refund you up to the amount of £85,000.