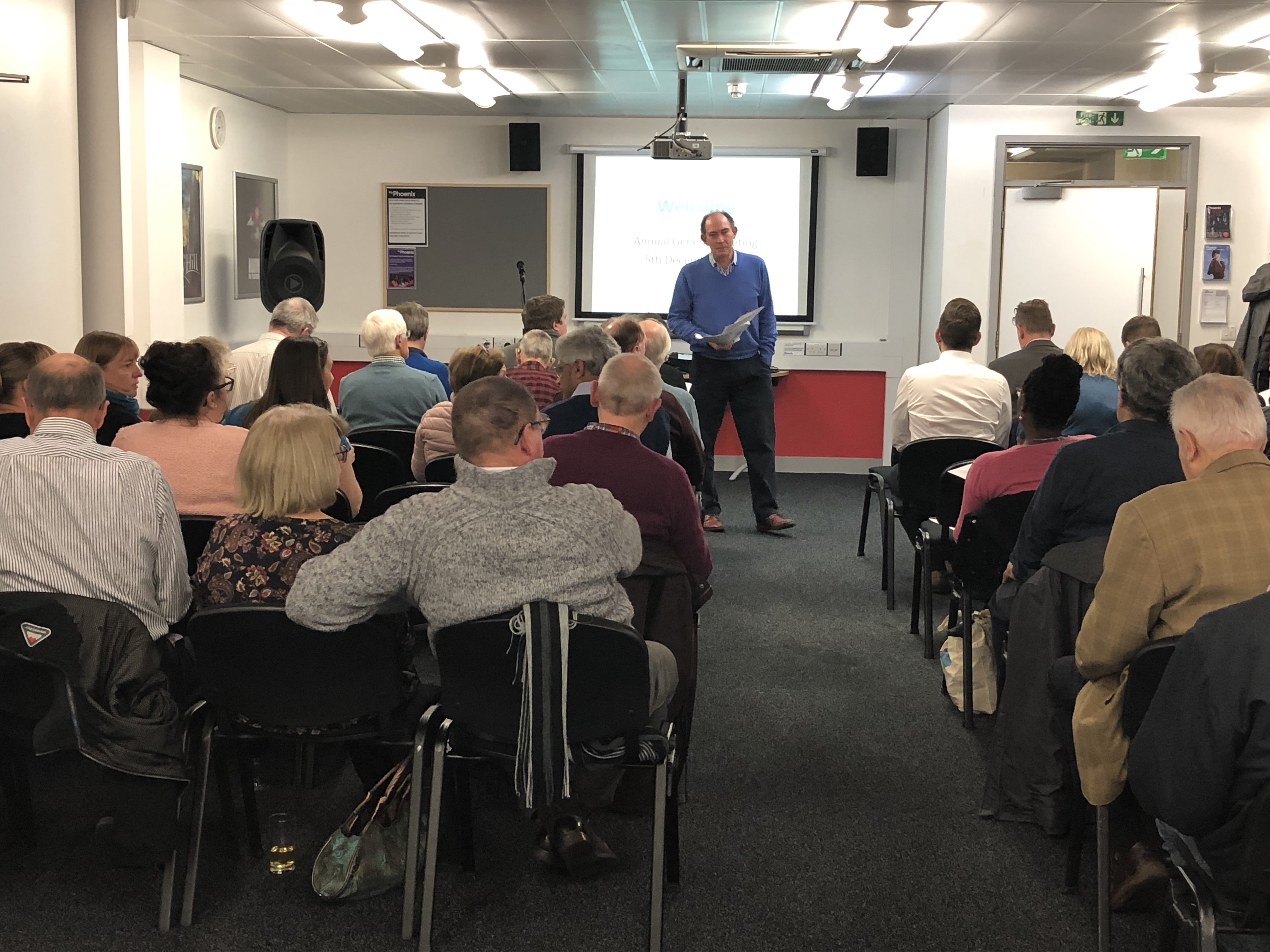 We were delighted to see so many members at our Annual General Meeting that took place on Wednesday 5th December.
The Year Highlights
Paul Mattioli, Chair of the Board opened the meeting and reported an enormously successful year for Clockwise Credit Union, highlighting the key developments that have taken place this year. These included significant IT developments and software automation that bring us in line with high street banks, in terms of being able to offer instant decisions for online loan applications with e-signatures and faster payments. The robust systems needed for these services has meant greater investment in staff and it was noted the great asset the credit union staff are to the business overall. The new Save While you Borrow Scheme has attracted a lot of interest from members for the second year running and £22,600 has been set aside this year to reward those who haven't missed a payment.
Dividend Increase
The Board's proposal to increase the dividend to 1.75% was approved and it was noted that members can make the decision to donate this back into the credit union if they wish to do so.
CEO
Teresa outlined the important work that has been carried out this year around the credit union's contribution to the local community. Teresa recalled thinking back to when there were just 300 members and hearing about a Canadian credit union who were involved in helping the local community in ways that really impacted on the improvement of lives. She said at the time she felt we would never reach that point and is delighted that we have! The community contribution is now an objective which means we can monitor what we have achieved each year. Specifically, the team are enormously proud to have introduced the Community Grant Scheme which has already awarded several local organisations and charities. Teresa outlined that whilst the main focus will always remain on the core business, giving back to the community is important and the team are also looking at individual and group volunteering.
Paul announced, and huge congratulations to Teresa, who has been promoted from General Manager to CEO, which is more in line with the position, role and responsibilities.
Treasurer
Brian Wilson, Treasurer, provided a snapshot of the Income & Expenditure and Balance Sheet which again highlights a very successful year.
Supervisory Committee
Paul Constable outlined the important work of the Supervisory Committee and applauded the Board and staff for their incredible commitment and hard work, especially during a difficult year in managing the banking provider change. It was also noted that the unfortunate loss of £13,000 due to fraudulent loan applications was managed exceptionally well. Many other credit unions up and down the country fell victims to the fraud and reassured members that additional controls and checks have been put into place as a result – five further attempt were identified and blocked. Paul welcomed any questions from members at any time during or outside of the AGM.
Elections
Proposals took place and were seconded to reappoint the Independent Auditors and Supervisory Committee members.
Board of Directors
Paul reported changes to the board during the year which included the retirement of Donald Clinton-Smith, who provided 12 years of service to the board and credit union and who will be greatly missed. Paul continued that Stephen Barringer and Patrick Jana have both stepped down due to work commitments and who will be missed from the board and their wealth of expertise. The board are happy to have welcomed Mary Hirst, Tim Emmony and Paul Taylor who all bring a myriad of skills to the board and who were officially elected in at the meeting.
Annual Report
To read the full Annual Report online, please click here.