The pre-paid card is a pay-as-you-go VISA payment card. Simply 'load' money onto the card which can then be used to buy goods and services or withdraw from cash machines, in the same way as a debit card.
The prepaid card does not have an overdraft facility.
To apply for the prepaid card you must be a Clockwise Credit Union member. For more inforation on becoming a member click here
If you are already a member then all you need to do is complete and return the application form below and we will do the rest.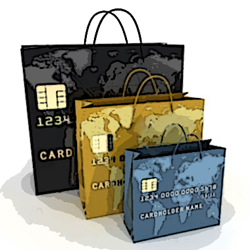 How it works
Its as easy as 1-2-3.
Have your wages and other income paid onto the prepaid card or pay cash in at any Pay Point outlet.
The card works just like a bank account. Use your VISA debit card to make purchases or get cash from ATM. You can also pay bills with your card or by standing order.
Log into your online account to manage your money. Keep track of your purchases and payments online or on mobile. Manage your bill payments automatically with the Envelope Facility.
The Rewards?
The prepaid gives gives you rewards & discounts on everyday shopping, clothing and electrical items at selected retail outlets.
Log in to your account to view and shop at participating retailers where you can receive cashback rewards or special discounts.
What does it cost?*
The prepaid card account will cost you from just 46p per week.
All other usage fees are clear and transparent (and there is always free alternative to paid for services!)
It's FREE to make purchases in the UK
You can also use your card to pay online or over the phone
It's FREE to get cashback from supermarkets and other retailers
Or you can withdraw cash from an ATM for 75p
It's FREE to pay a bill from your account
Alternatively, if you need to pay your bill urgently the fee is just £3
It's FREE to pay your wages or other income into your account
And you can pay in cash at a PayPoint facility for just £1.50
For a full list of account functionality, usage fees and restrictions, please see the Engage Terms and Conditions or log into your Engage account portal. You can read the Privacy Policy and data collection terms here
Your Engage Visa debit card will be issued by Contis Financial Services Ltd who is authorised by the Financial Conduct Authority to issue emoney (Firm Reference Number: 900025) and is a member of Visa. Please note that Engage Visa debit card is an electronic money product and although it is a product regulated by the Financial Conduct Authority, it is not covered by the Financial Services Compensation Scheme. We ensure that any funds received by you are held in a segregated account so that in the unlikely event that Contis Financial Services Ltd becomes insolvent your funds will be protected against claims made by creditors