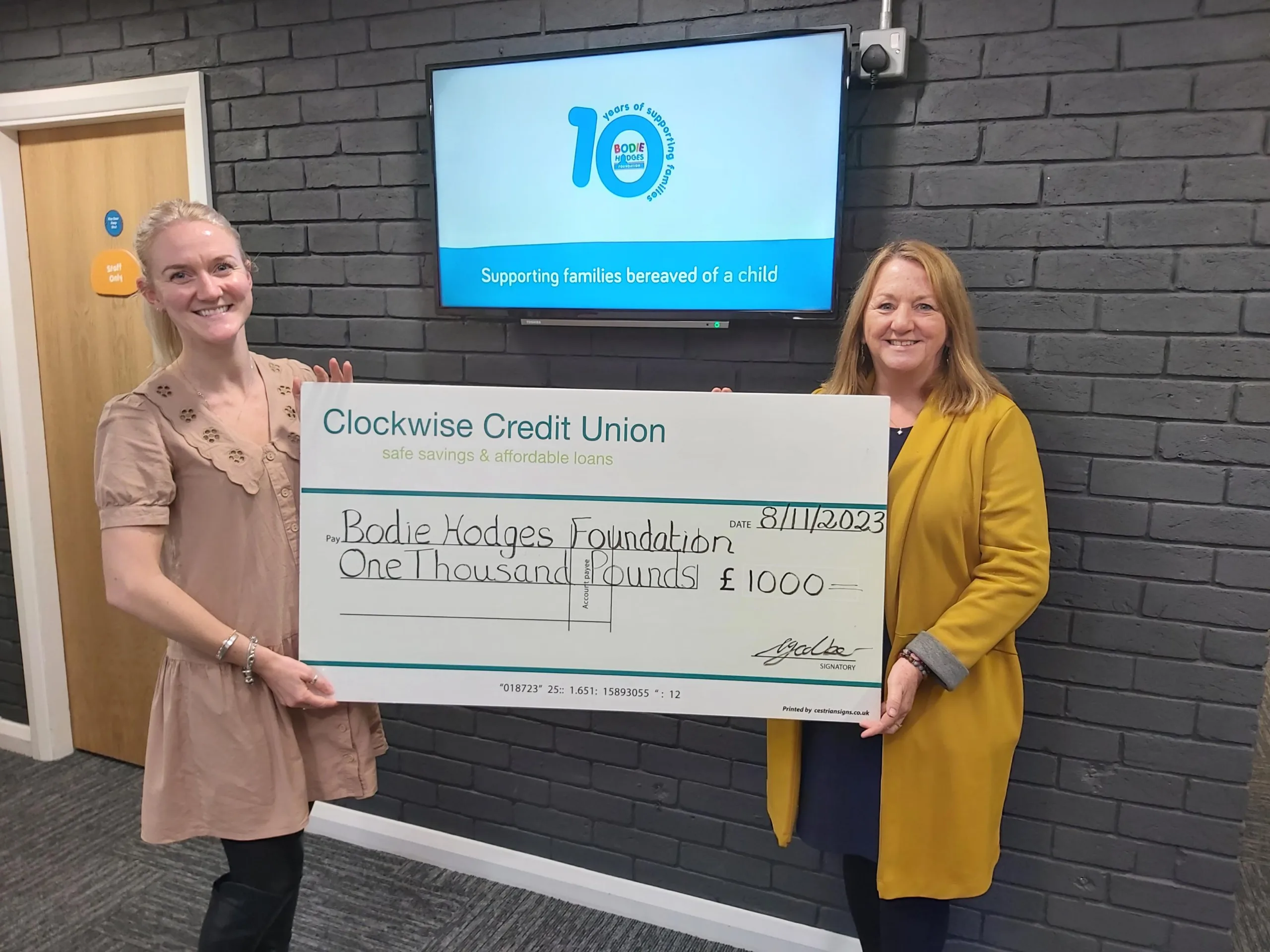 Clockwise awards community grant to Bodies House
We're thrilled to award Bodie Hodges Foundation £1000 from our community grant fund. At Clockwise Credit Union, we have the opportunity to support our local community through our Community Grant Scheme. The grant will go towards the purchase of Bodies House. The Bodie Hodges Foundation is a Leicestershire-based charity that supports families bereaved of a child, aged 18 and under.
Bodies House is based on Braunstone Lane and offers a safe, welcoming, and therapeutic space for local bereaved families to access bereavement services. The need for services is increasing so Bodies House needs to be able to have an equipped base as the charity continues to grow and expand.
Ruth from the Bodie Hodges Foundation said:
"Bodies House has been our base for our 1-1 early therapeutic bereavement services since 2021, offering a compassionate and inclusive support network which brings people together. Our support gives families hope and encourages them to rebuild and remember after the death of their child.

Child death is one of the most traumatic things that can happen to a family, and the impact lasts a lifetime. As the demand on our services continues to rise the property has space for us to expand offer to bereaved families offering more workshop led groups as well as drop-in and social activities."
Elaine from Clockwise Credit Union went to meet the Bodie Hodges team in November & present the grant. Elaine said

"Thank you Lucy & the Bodie Hodges Foundation team for sharing with such professionalism and empathy Nick & Donna's story of creating this charity in memory of their much loved son Bodie.

Nick & and Donna's compassion and resilience to help others on their grief journey and the instant calming well-being ambience on entering Bodie Hodges Foundation Centre are both inspiring and heartwarming, Thank you Lucy & Ruth for reaching out for our support.

They are so close to their target, please support if you are able to."
When you save or borrow with Clockwise your money is invested back into the community. Clockwise operates a Community Grant Scheme that awards local groups and individuals grants for a whole range of items that ultimately benefit the community the group/individual works to serve.
You can read more about the Clockwise Community Grant scheme here