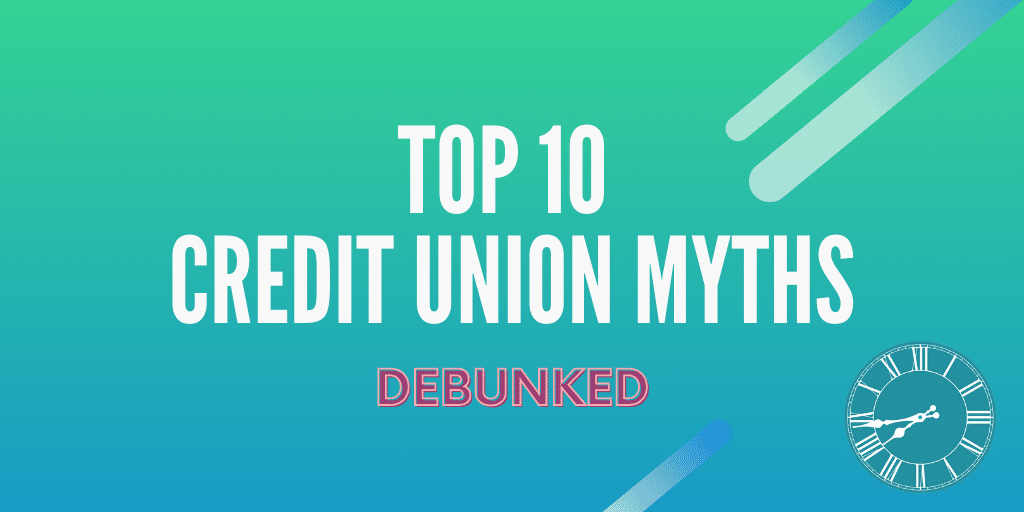 Common myths about credit unions
Credit unions continue to gain in popularity as trusted, fair and ethical financial service providers. Many people could benefit from using the services a credit union, but their misconceptions about them could be preventing them from doing so. This article helps to dispel those misconceptions to establish the real facts about credit unions, by looking at the most common credit union myths and the facts that debunk them.
Myth 1: Credit unions are only for people who are on a low income or have bad credit.
Fact: On the contrary, credit unions can be beneficial for people of all financial backgrounds. There are many benefits to choosing a credit union over a bank; we are able to avoid added on fees such as those for early repayment, so you may find that a loan with us would be more affordable. By saving your money with a credit union you are also helping the local community by allowing someone else to borrow.
Myth 2: Your money isn't protected by insurance.
Fact: Your money is just as safe in a credit union as it is in a bank. When you make a deposit into your Clockwise Credit Union savings account, your money is protected by the Financial Services Compensation Scheme (FSCS). Individual depositors are entitled to a claim of up to £85,000 and joint accounts up to £170,000. On the off chance that Clockwise Credit Union or any other credit union in the UK was unable to meet its financial obligations your money would be fully protected.
Myth 3: Credit unions do not offer rewards programmes.
Fact: This varies by credit union, but many do offer cashback rewards and incentives. Clockwise Credit Union now offers the Engage card, which is a prepaid debit card that can earn you up to 15% cashback at various retailers. At Clockwise you can save while you borrow and be rewarded too!
Myth 4: There are fewer places to withdraw your money.
Fact: You can easily withdraw money from your Clockwise Credit Union savings account by BACs transfer either online or by phone. The Engage card can be used at any ATM and anywhere Visa is accepted. Most credit unions offer access to a large network of ATMs, so accessing your money is not a problem.
Myth 5: They are a good place to keep your savings, but not for much else.
Fact: This is simply not true, credit unions offer a variety of products such as loans with very competitive interest rates and everyday banking. You may find that switching to a credit union is better for all of your banking needs as there are generally less fees.
As not-for-profit organisations, and alternatives to high street banks and high cost lenders, we pass our financial savings onto our members. We return all earnings back to members with our low fees and great dividend rates. Our loans have much lower interest rates than those of most payday loan, doorstep lender, catalogue and buy-to-rent companies.
Myth 6: Credit unions are an old, outdated concept.
Fact: The credit union movement is in contrast, quite a progressive concept, and our membership levels continue to grow. We help many people including those who are financially excluded to access affordable credit, set up safe savings accounts and manage their money better. We also partner with many organisations to provide payroll membership schemes. With shopping local becoming more and more popular, it makes sense to bank locally as well. Making large corporations wealthier is really the outdated concept.
Myth 7: The technology credit unions use is outdated.
Fact: Online banking is safe, secure and easy with Clockwise Credit Union and most other credit unions. At Clockwise we use very latest technology, and you can easily apply for membership, a savings account or loan on our website. Our online account access is free and easy to use, open 24 hours a day, putting you in control of your money. We also have a mobile app equipped with functions to help you manage your money more effectively. And our website also now features a live chat facility, making it really easy for you to talk to one of our friendly advisors.
However, if do you prefer to speak to an advisor in person you can do this in our city centre branch, at our community access points or over the telephone – visit our contact us page for more information on our current opening times.
Myth 8: They are unlikely to be around in ten years' time.
Fact: Credit unions have existed in the UK since the 1960s and Clockwise Credit Union was founded over 28 years ago. It is unlikely that credit unions will disappear; in fact, they are growing in membership every year, to provide affordable credit, safe savings and payroll services to all who live or work in their communities.
Myth 9: Opening an account is a difficult and lengthy process.
Fact: It is very easy to open an account; all you have to do is fill in an application form online or in our branch. Just have your ID and bank details ready and you're all set.
Myth 10: Credit unions have strict eligibility requirements.
Fact: While there are eligibility requirements for joining a credit union, they are not as strict as you might think. Usually you just have to live or work in the local community to join a credit union, and at Clockwise Credit Union, you have to:-
Live or work in Leicester, Leicestershire, Rutland or Northamptonshire
Or be an employee or are a tenant of Asra, Raglan or Sanctuary Housing Associations.
You may even be eligible to join our payroll scheme if you work for one of our payroll partners, and this entitles you to exclusive rates and offers on our products and services.
Now that you know the truth about credit unions, you might be interested in joining one. It is very likely you are eligible to join a credit union in your local community, and you can check which one you can join here.
If you are interested in the services of Clockwise Credit Union you can find out more about us here.