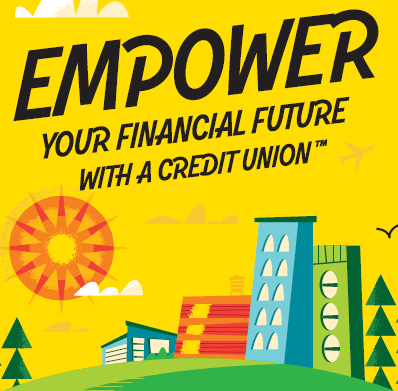 Empower Your Financial Future with a Credit Union
Beginning in 1948, credit unions have come together annually on the third Thursday in October to commemorate the credit union movement's history and achievements. This year, we celebrate 74 years of International Credit Union Day and the theme chosen—"Empower Your Financial Future with a Credit Union."
The community commitment and positive economic and social change are just some of the ways that credit unions differ from traditional for-profit banks and financial institutions.
For more than 150 years, credit unions worldwide have proudly collaborated to put people before profits in order to provide access to affordable financial services for all members. Credit unions invest their earnings in helping members meet their financial goals. In addition to lower loan rates and better service, members experience the difference that comes through our democratic structure, service to members and social goals that credit unions embody.
Why save with a Credit Union?
✅ Be ready for whatever
Saving gives you a cushion for unplanned events and emergencies, so you're covered and have one less (big) thing to worry about, if the unexpected happens.
✅ Reach your goals
Building up your savings helps you do what you want to do, whether it's buying presents for a family celebration, getting a car or putting together a deposit for a home.
✅ Make more of life
Having a pot of savings opens doors. Just think, you could maybe pay for a qualification that sets you on a new career path, or say 'YES!' to a holiday of a lifetime, without going into debt.
Why take out a loan with a Credit Union?
Credit unions can consider all loan applications from people in our communities, regardless of background, including those who are in receipt of benefits. A credit Union is also a not-for-profit organisation, our focus is improving the financial wellbeing of our members and helping the local community.
Clockwise Credit Union is just one of more than 86,000 credit unions in the world serving 375 million members.
What makes credit unions unique?
Equal Ownership – Credit unions are democratically controlled and member-owned and member-operated. Each member has equal ownership and one vote regardless of how much money he or she has in savings.
Not for Profit – Credit unions are not-for-profit financial cooperatives that provide a safe, convenient place for members to save money and access loans and other financial services at reasonable rates.
Social Purpose: People Helping People – Credit unions exist to serve their members, not to make a profit. Every member counts, including those of modest means. This "people-first" philosophy impels credit unions and their employees to get involved in their community and support worthwhile causes.
Volunteer Leadership – Each credit union is governed by a volunteer board of directors elected by and from the credit union's membership.
Financial Education for Members – Credit unions place particular importance on educational opportunities for their members and the public to help everyone become better-educated consumers of financial services.
Trust – Lately credit unions have received positive press for being trustworthy and resilient institutions during a tumultuous time. Credit union members worldwide can be proud of these accomplishments and rest assured that their money is safe at the credit union.