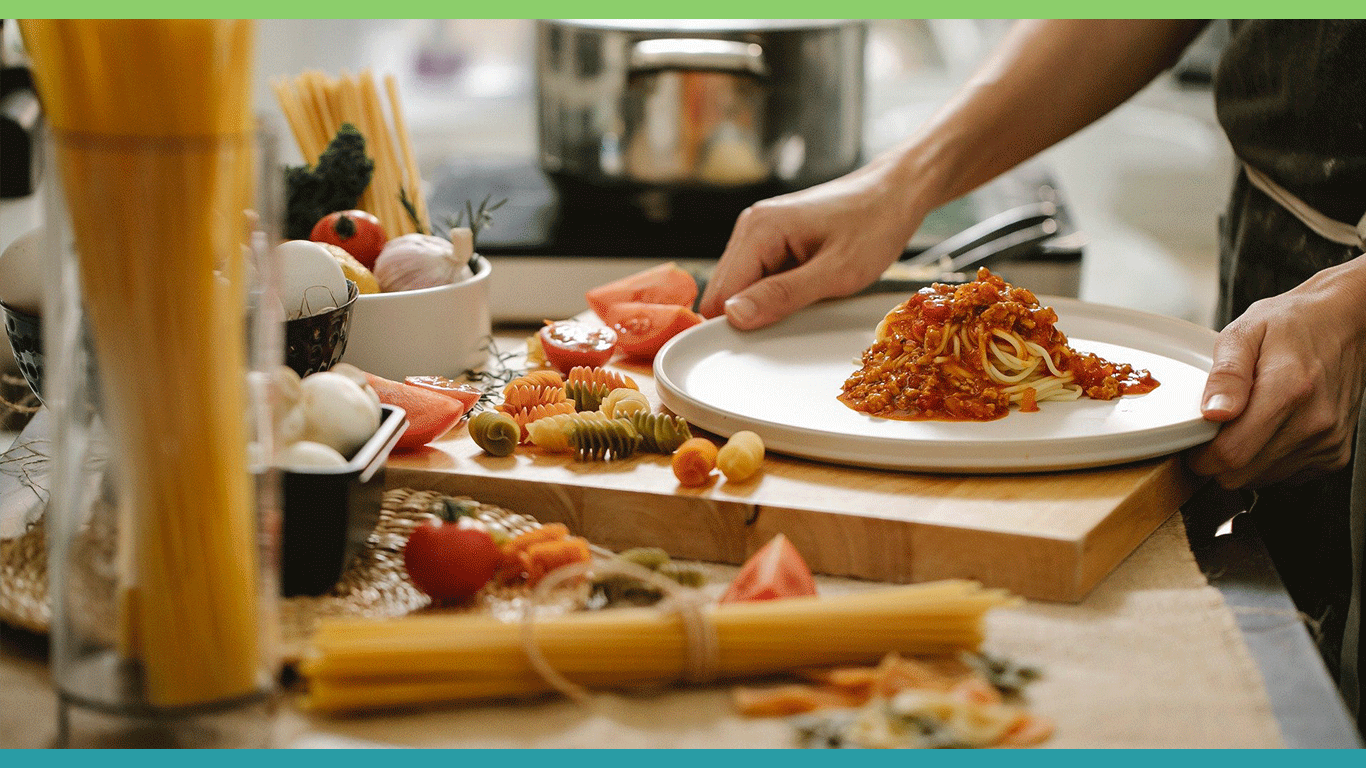 Food budgeting: 30 tips to help you eat for less
According to 2021 figures, the average UK household (2.4 people) spends around £97 a week on food.
If you're food shopping on a budget, you'll want to make sure the food you buy goes as far as possible.
In this post, we'll give you practical advice that will help you eat for less.
How to prepare for your food shop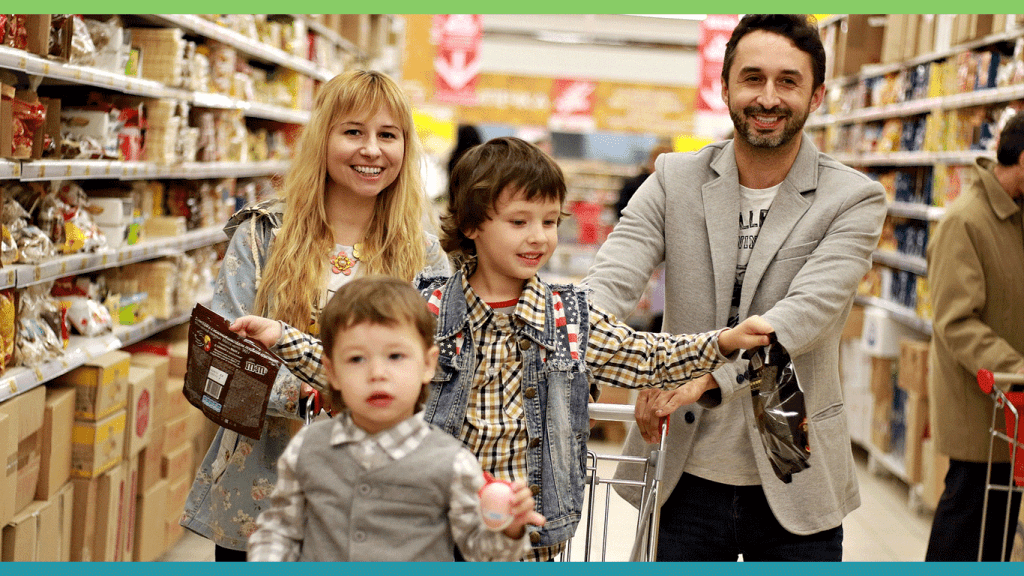 Like many things, food shopping on a budget is easiest if you do a little planning.
Here are some simple things you can do before you shop that will help with food budgeting and reduce what you spend.
1. Get a loyalty card
If you don't already have one, consider getting a loyalty card for the supermarket you use most often. Scanning your card with each shop will help you build up points that you can exchange for vouchers towards your shopping.
2. Check your fridge, freezer and cupboards
Before buying more food, do a stocktake and check the expiry dates. This will help you plan your food shop better and avoid doubling up on items you already have.
3. Use up leftovers first
After you've checked your fridge, freezer and cupboards to see what you have left over, make a plan to use these items first. Decide what ingredients you'll need to make your leftovers into a meal and add them to your shopping list.
4. Plan your meals in advance
Before you do your weekly food shop, plan how many meals you'll need to prepare for each day and evening and how many portions you'll need.
Remember to include breakfasts, packed lunches and evening meals.
5. Be flexible
We all have weeks when our plans might be variable, so allow for some flexibility.
Keep some food in the freezer in case you need an extra meal. And buy some fresh food that can be frozen if you find you're not going to use it.
6. Make a loose shopping list
A loose shopping list gives you more freedom when you're shopping. This means you can take advantage of special offers and discounts.
For example, writing down meat instead of beef or chicken gives you the option to see what's on sale.
7. Check if you have vouchers to redeem
If you're a supermarket loyalty cardholder, you may receive coupons at the till or via your smartphone app. These coupons will give you discounts on certain products next time you shop.
If you plan to use the coupons, keep them safe in your purse or wallet and check them before you shop so you remember to buy the items.
How to do your food shop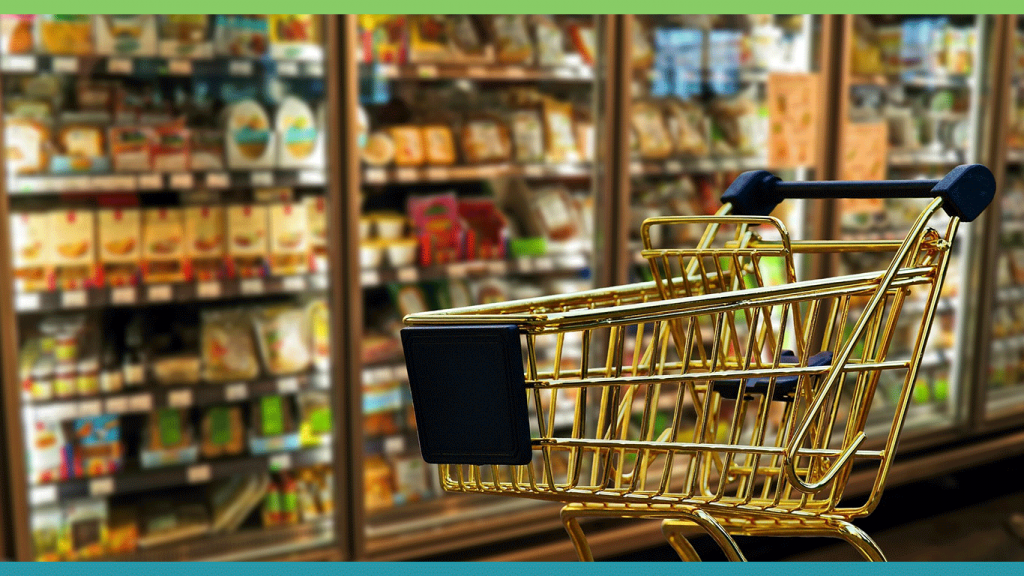 Now you're ready for your food shop, you can go out, or log in, and get it done.
Here are some tips to help you stay focused, avoid those shiny impulse buys and stick to your food budgeting plan.
8. Eat before you shop
Studies show that you buy more if you shop when you're hungry. Eating beforehand will help you stay focused on what you really need and avoid picking up extra items.
9. Shop online
Shopping online makes it easier to stay focused and stick to your list. There are fewer distractions and temptations, so you can avoid those impulse buys that will bump up your bill.
And because you do the shop in advance of collecting it or having it delivered, you have the time to change it and delete any items you decide you don't really need.
10. Check for discounts
Supermarkets usually sell off food that's going out of date that day. If you can use or freeze the marked down items before they expire, you can get some good deals.
Further special offers can usually be found on the ends of the aisles.
11. Buy food to cook from scratch
When you're food budgeting, it's much cheaper and healthier to buy raw ingredients than pre-prepared convenience foods and ready meals.
Keeping a stock of cupboard and fridge essentials makes it easy to supplement your ingredients and put together a meal.
Good cupboard essentials to have include:
Dry rice and pasta
Dried pulses, such as lentils, beans and peas
Tinned vegetables, especially tomatoes
Dry herbs and spices
Cooking oil
Plain flour
Cheese
Eggs
Milk.
12. Buy whole vegetables
Whole vegetables and salad items are often much cheaper than pre-prepared ones — and they keep longer, too.
In some stores, you can grab a bag for smaller items and fill it with just what you need. This means there's less chance of wasting anything.
13. Limit how much fresh food you buy
Fresh food is at its freshest on the day you buy it. So it makes sense to buy it every couple of days as you need it — if you can.
Fruit and veg that's past its best can often still be used. Keep reading to find out how.
14. Try the supermarket's own brands
One of the simplest food budgeting tricks is to switch to your supermarket's own brand products.
Supermarket own-brand foods can be just as good — and sometimes better — than the big brands. And they're much cheaper, too.
If you're wary about taking the plunge, read the reviews online and see what other shoppers have said before you buy.
15. Buy in bulk
If you want to eat for less, it's often cheaper to buy food in larger packs or to take advantage of buy-one-get-one-free offers.
If you can afford to, and you have the storage space, this can be a good way to save money.
How to prepare food and save money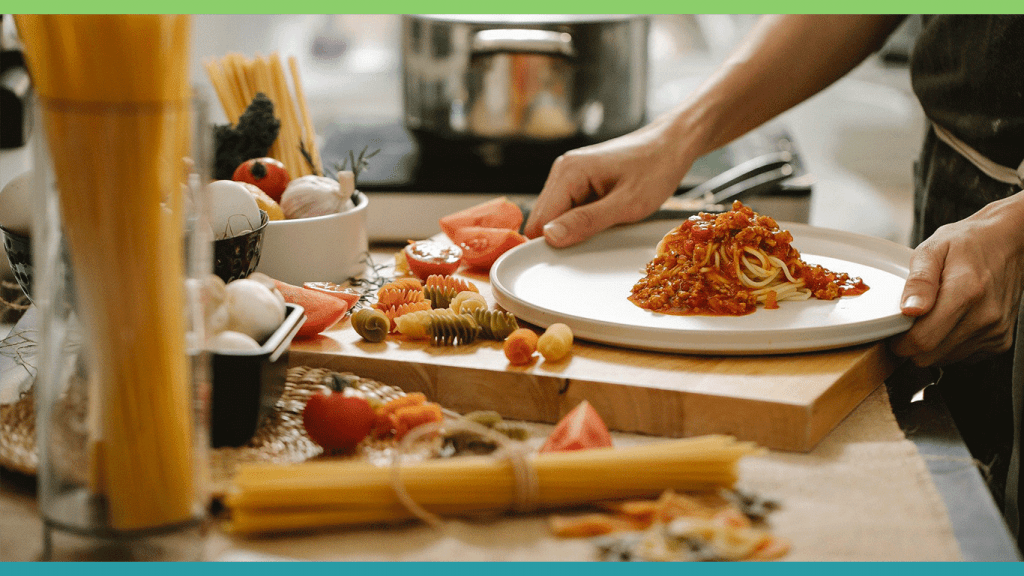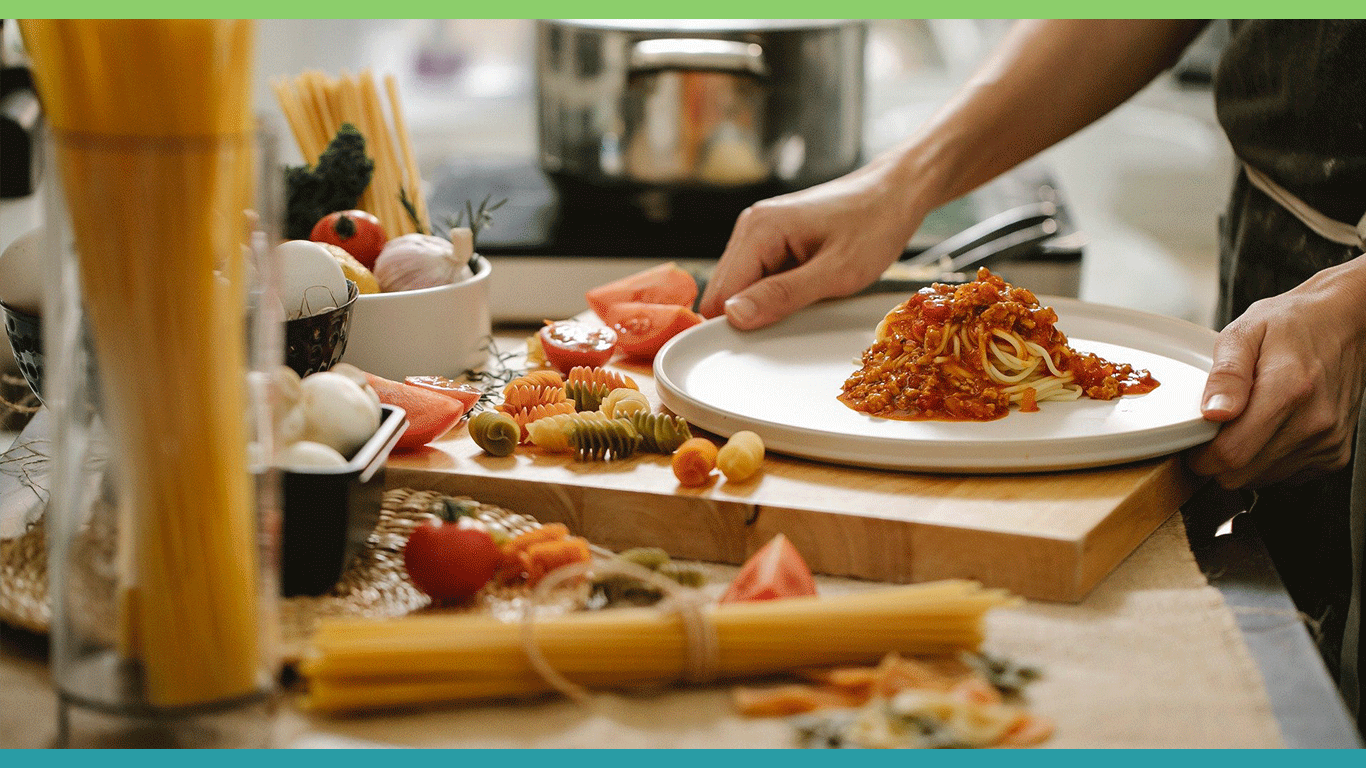 Food budgeting doesn't stop when you've done your shop. When you get your food home, you'll want to make the food you've bought stretch as far as possible.
Here are some ideas to help you.
16. Be wise about portion size
Many of us cook more food than we really need. This means we either eat too much or end up wasting food.
The BDA's Portion Sizes Fact Sheet is a simple guide to help you portion your food properly so you're only preparing what you actually need.
17. Prep your meals in advance
We all have those days when we're tired and can't be bothered to cook. But you can save yourself time and effort by prepping several meals in one go.
Preparing your meals in advance means all the hard work is done — and there'll be less washing up to do after you eat.
It's also the best way to use up all your ingredients and avoid the temptation to spend more money on takeaways or eating out.
18. Cook in bulk
If you buy in bulk, you can also cook in bulk. Make double portions of your meals and freeze half for another day. This means you'll always have something on hand that's ready to reheat at short notice.
This can be particularly useful if your plans change, you're late home or you have an unexpected guest for dinner.
19. Pack your own lunches
Packing your own lunches is much cheaper than buying ready-made. And it can be healthier too.
For example, you could pack your own:
Soups
Salads
Sandwiches
Cold leftovers.
How to avoid wasting food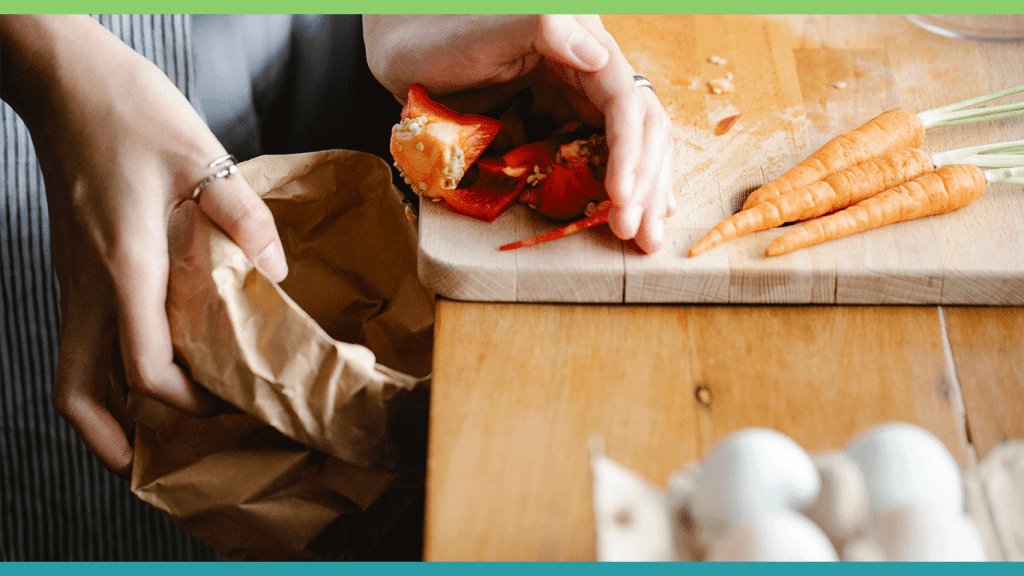 It's estimated that the UK throws away around 9.5 million tonnes of food every year. This is shocking — especially when you consider that 8.4 million people in the UK are living in food poverty.
Here are some tips to help ensure the food you buy ends up in your stomach rather than your waste bin.
20. Check the temperature of your fridge/freezer
Making sure your fridge and freezer are set to the correct temperature will help to keep your food fresh and at its best.
According to Currys, the ideal temperature for your fridge is between 3ºC and 5ºC and your freezer should be –18ºC.
If your appliances don't have a temperature display, you can use a thermometer to check them.
21. Freeze food at its freshest
You can freeze most foods, but the length of time you can freeze them for does vary. There's a good breakdown of optimal freezing times over at Good Housekeeping.
If you're going to freeze fresh food, do it as soon as you can so it freezes in the best condition.
For example, if you're buying fresh bread, freeze what you know you're not going to need straight away. This will mean it will still be like fresh when you defrost it.
22. Use by vs best before
When checking the dates on your food labels, make sure you understand the meaning of use by vs best before.
If your food has a use by date, it means the food may no longer be safe to eat after this date, so you should be cautious.
If your food has a best before date, it means the food is at its best quality before this date, but it will still be safe to eat if it has been handled and stored correctly.
Lots of people throw away food that's past its best before date, but is still perfectly safe to eat.
23. Rotate your stock
If you have stocks of food in your house, you need to rotate them, just like the shops do. Pull your existing foods to the front of the cupboard or top of the freezer drawer and put the new ones behind or underneath them.
This will mean you use up the old stock first and all of your food stays at its best and within the expiry date.
24. Put leftover dinner in the fridge
Leftovers from dinner can often be used to make a lunch for the following day.
There are some foods you need to be careful with to avoid the risk of food poisoning. One of these is rice.
For advice on reheating your leftovers, see this post at BBC Good Food.
25. Use up leftover vegetables
Leftover vegetables can be used to make soups, stews or casseroles. Or you can pickle them and use them in your sandwiches and salads.
If they've gone a bit soft, roasting them in the oven will help to crisp them up. Then you can either serve them as they are or make them into a healthy soup.
26. Use up leftover fruit
If you have fruit that's gone past its best, you can stew it and freeze it. The stewed fruit will keep well in the freezer and can be used at a later time to make pies, crumbles and other desserts.
And there are lots of recipes to use up leftover and overripe bananas in your fruit bowl.
27. Use up stale bread
Bread that has gone stale can still be used for toast and other recipes, such as:
28. Save your vegetable scraps
You can save any vegetable scraps to make your own vegetable stock. This can include anything you discard after prepping your vegetables, including tops, tails, peelings, skins, stalks and stems.
Collect up the scraps each time you prepare your vegetables. Wash them thoroughly and keep them in the freezer until you have enough to make your stock.
The stock can be used as a base for soups, sauces, gravy and risotto. Once made, it will keep in the fridge for up to four days or in the freezer for up to three months.
29. Save your citrus fruit skins
Skins from citrus fruits, like oranges, lemons and limes, can be stored in the freezer, then used to make candied peel. This can be used to add a citrusy twist to your fruit cakes, muffins, cookies and desserts.
The peel can also be used to make flavoured gin or vodka.
30. Join OLIO to help reduce food waste
OLIO is an app that allows neighbours and local businesses to donate their spare food items to people in need.
If you have food you're not going to use, you can post it on the app. And if you find yourself in need, you can check the listings to see what's available in your area.
Have you made a food budgeting saving?
If our food budgeting tips have helped you eat for less and save some money, you might be wondering what to do with it.
Clockwise Credit Union offers a number of savings accounts. You can pay what you save into one of these accounts each month and watch it grow.
How you use your savings is up to you. Keep them for emergencies or save towards something you really want, like a holiday or car.
Some accounts give you instant access to your money, so you can withdraw it when you need to, without any penalties. This can be handy if you need it to cover the cost of an unexpected repair.
About Clockwise Credit Union
Clockwise Credit Union is one of the UK's most exciting, dynamic and fast growing financial co-operatives.
We help members in Leicestershire, Rutland, Northamptonshire, Coventry and Warwickshire with a range of loans and savings accounts.