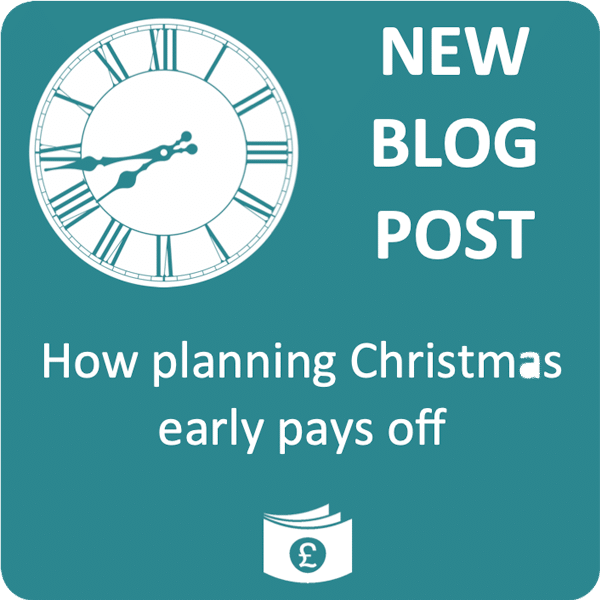 How planning Christmas early pays off
Although we don't want to be thinking about Christmas in September, it is a good idea to start planning ahead when autumn arrives, and we move into October.
That isn't to say you need to have figured out every little detail, but planning Christmas a little early means you won't be running around like a headless chicken (or turkey in this case) come December.
Here are our 3 top tips on how planning Christmas early pays off:
Budget!
Yes, we know that Christmas isn't about presents and giving, it's about family and being with the people we love, but most people enjoy the giving (and receiving!) of presents too. Planning the money you have to spend is important if you are a) not going to overspend and b) have enough for what you need. If you saved a little each week after last Christmas, you might have a pot saved up. Work out the amount of money you think you will need for Christmas 2019 first. Often, we spend more than we mean to but by planning ahead, you give yourself more of a chance of sticking to your budget than if you just go along with it and hope for the best.
Think about all the things you need to buy, extra groceries and any other items you need to spend money on. Then, work out what money you have coming in and can allocate that. Some people find they need a Christmas loan to help out and others perhaps have a combination of savings and borrowing. The most important thing is to plan – if you can borrow think about what can you afford to pay back. The sparkle of Christmas soon goes if you are paying a loan you can't afford. So be honest and realistic with yourself.
The important thing then is to stick to your plan and budget. If you are saving money from your October and November pay days, make sure you commit to doing that.
Shop Smart
Try not to get caught up in Christmas shopping fever too much and overspend. By shopping early, if you can, you not only avoid the crowds  but may be able to grab a few bargains too. Supermarkets often release their Christmas delivery dates during autumn too and so if you shop online you are also more likely to stick to your budget for food shopping. It is very easy when you are wandering around the supermarket to just keep adding things to your trolley and before you know it you have over-spent.
Start making a list of the gifts you want to buy and shop around. You can always get offers and deals that will save you money, so by starting early you give yourself a chance of finding the gifts you want at a price you can afford.
Giving
Talking of gifts. There are lots of ways to give that don't involve going to a shop and buying a product. These days we are all trying to do our bit when it comes to reducing the impact we have on the environment. Buying less plastic and producing less waste. So why not, this Christmas, think about other ways to give. You could bake Christmas cakes, cookies or truffles. You could try making things with your kids or you could plan an experience or outing, cinema tickets or tickets to an event. There are lots of different ideas, so spend some time thinking about what you could give that would give people good memories and not necessarily involve buying lots of products.
Most of all planning ahead gives you chance to relax and enjoy Christmas when it does arrive!