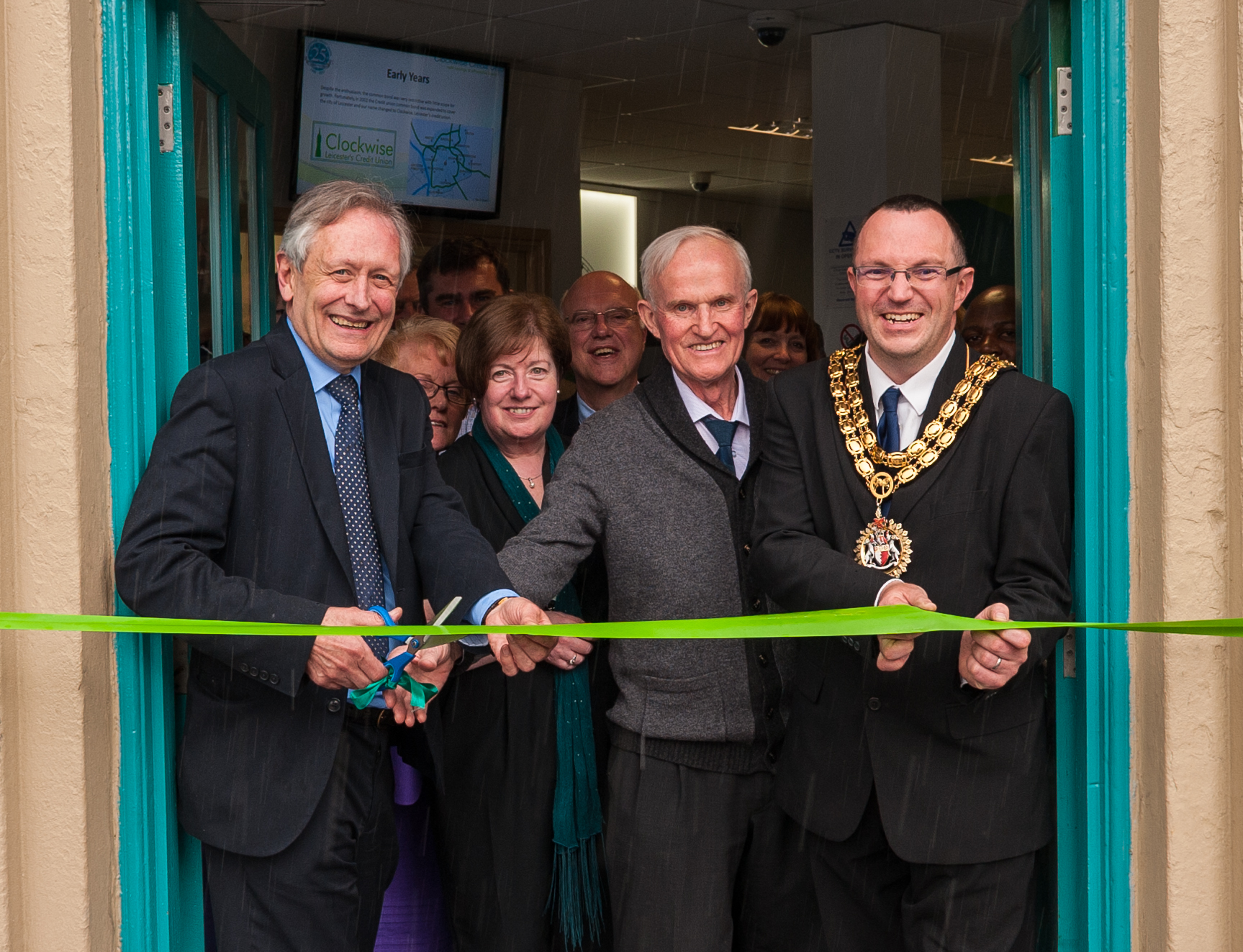 From Humble Beginnings to a 25 Year Anniversary
The entire Clockwise team, including Board of Directors, members, visitors and partners gathered together at the Head Office branch on Friday 12th May to officially celebrate the 25 year anniversary and unveiling of the newly refurbished branch.
After a tour of the branch, Clockwise Chair, Paul Mattioli, gave a speech around the history of the credit union.
Humble Beginnings…
Clockwise was established in 1992 as 'Highfields Community Credit Union'; an anti-poverty initiative of the churches in Highfields.
Based at Sacred Heart Roman Catholic Church in Highfields its founder, Fr. John Lally, was supported by an enthusiastic bank of volunteers who championed the services the credit union provided.
Early Years
The common bond was expanded to include anyone living or working in Leicester, Leicestershire or Rutland and we changed our name again to simply Clockwise Credit union.
In 2005 the Credit Union moved from its original base at Sacred Heart Church to a prominent city centre office in Pocklington's Walk. This was kindly provided by a generous benefactor who supported the vision of the Credit Union.
Growth Fund
In 2006 the Credit Union successfully tendered for funding from the Department for Works and Pensions (the Growth Fund). This fund was to provide loans to financially excluded.
During the period of the contract to April 2011 we loaned out £3.1m.
Since the end of the contract we have continued to lend to financially excluded in 'the spirit of the Growth Fund' a further £14m (to June 2016).
The Growth Fund has enabled us to contribute to achieving our original vision of serving the financially excluded, defined by the DWP as: likely to live in areas of high social economic deprivation; having no access to mainstream financial services including banks, bank accounts, affordable loans from reputable sources, or the financial advice needed to help them manage their financial matters.
County Access Points
By 2007, in addition to our city centre premises, we had also opened a number of community based collection and information points across the city. These included four new Collection Points in Braunstone which was considered an NDC area and in the top 5% highest level of Multiple Index of Deprivation in England. We also opened a new collection point in Wigston. Plans to open points in Lutterworth and Market Harborough were also underway. At that time, we were in discussions with Leicestershire County Council, NWLDC, Braunstone Town Council and the NHS Trust to set up Staff saving and Loan schemes via Payroll deduction.
Branch Development
The Board took the prudent decision to purchase our own premises. In November 2010 we were exuberant to move into 1. St. Nicholas Place.  Once again we were delighted that the move saw a significant increase in new membership and take up of products and services.
To Date
Since the beginning we have loaned out £28 million to members of our community, many of whom would have otherwise turned to high cost lenders; being unable to access mainstream finance.
We are naturally very proud of the service we have been able to and continue to provide.  We also offer savings, budget and rent accounts to support people in managing their finances better.
Flourishing 
Clockwise Credit Union has continued to flourish with now almost 10,000 members, £3.08m in loans and £3.35m in savings. We have grown through the hard work and dedication of a large number of volunteers, directors, staff and local champions. We are profoundly grateful for their efforts.
Castlebar Credit Union Director…….gave a moving speech about the relationship between the two credit unions which dates back to when Clockwise began and marked by the clock that sits proudly above the branch entrance. This was followed by a speech from ABCUL Director, Mark Lyonette, before Fr. John Lally and  Hinckley & Bosworth Mayor, Councillor Richard Allen joined Leicester City Mayor, Peter Soulsby for the official ribbon cutting ceremony (pictured).